News archive
15.03.2019 FEATURE : picoPSU power supplies now with 3 years warranty !
Many years of product and market experience, continuous development and quality improvements as well as the use of only the best components (Japanese capacitors) have continuously improved the fanless picoPSU PC-ATX / ITX power supply series and reduced failure rates to a minimum. We stand for this quality and therefore offer a 3 year warranty.

Warranty regulations
For picoPSU power supplies CarTFT.com e.K. grants you a 3 year warranty throughout the European Union from the date of purchase. During this period we will remedy any claim for warranty, either by repair or replacement. The warranty granted is in addition to the statutory rights and does not affect them. The warranty does not cover damage caused by improper use, normal wear and tear, exposure to chemicals or force majeure, or any intervention or repair by you or third parties. In case of warranty please send the defective device with a copy of the proof of purchase and a description of the fault sufficiently franked to CarTFT.com e.K., Hauffstrasse 7, D-72762 Reutlingen. Claims other than the right to remedy the defects in the product specified in these warranty conditions are not substantiated by this warranty. Warranty service does not extend or revise the product warranty period.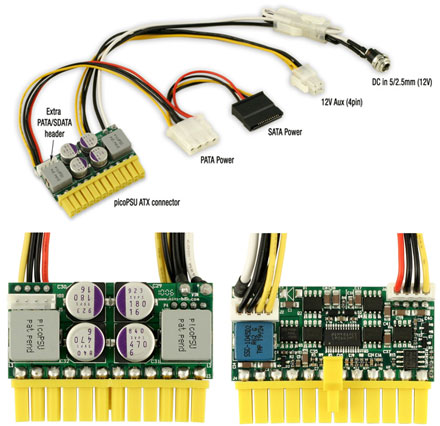 picoPSU-80 DC/DC PC ATX power supply (Fanless, 80 Watt)
picoPSU-80-WI-32V DC/DC PC ATX power supply (Fanless, 80 Watt)
picoPSU-90 DC/DC PC ATX power supply (Fanless, 90 Watt)
picoPSU-120 DC/DC PC ATX power supply (Fanless, 120 Watt)
picoPSU-120-WI-25V DC/DC PC ATX power supply (Fanless, 120 Watt)
picoPSU-150-XT DC/DC PC ATX power supply (Fanless, 24pol, 150 Watt)
picoPSU-160-XT DC/DC PC ATX power supply (Fanless, 24pol, 160 Watt)