News archive
28.01.2019 NEW PRODUCT: AEWIN SCB-6907A-CA1 4x LAN EmbeddedPC
Due to its size and connections (4x Gigabit LAN, 1x RJ45 console), this MiniPC is ideal for network applications such as: Firewall / router.


Intel Atom X5 E3930 CPU (2x 1.8Ghz, Apollo Lake)
1x SO-DIMM DDR3L slot
4x GbE LAN ports (Intel i211)
1x Half-size Mini-PCIe slot for mSATA storage
1x Full-size Mini-PCIe slot for extensions
1x Console RJ45
HDMI, USB3.0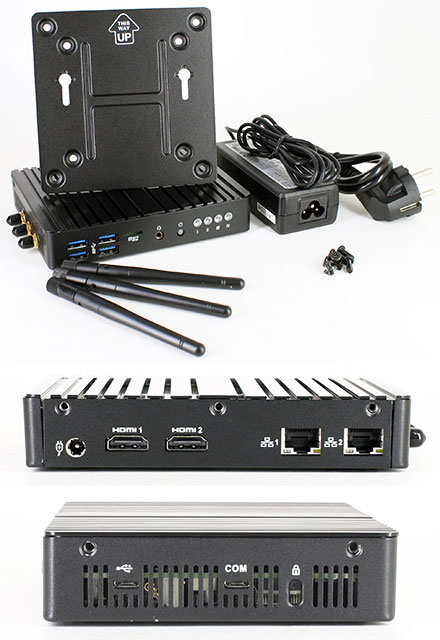 Gigabyte EL-20-3060-8GB (Intel Celeron N3060, 2GB RAM, 8GB eMMC, 2x LAN, WLAN/BT, VESA) [LÜFTERLOS]
15.01.2019 NEW PRODUCT : Nanovision MIMO USB+HDMI Display EX768C/EH1080C Multi-Touchscreen
This TFT monitor is connected to a Windows PC USB connector. The display is working as an additional display which can be added to the main display area on the left, right, upper or lower. Alternatively it can mirror the primary screen. The display can be swiveled in steps of 90°.

In addition, the EX768C model comes with capacitive multi touchscreen.

The EX768C comes with integrated mounting and protection ! Simply turn over the rear side of the display to get a stand.

The display also is available as an HDMI-variant (EH1080C).




Nanovision MIMO EX768C (11.6" USB Multi-Touchscreen Display, VESA)
Nanovision MIMO EH1080C (11.6" HDMI Multi-Touchscreen Display, VESA)