Jetway HPC150GR-HD1900B Panel-PC (15" 1024x768 5W Touchscreen, Intel Celeron J1900, 4GB RAM) [IP65/NEMA4 Front]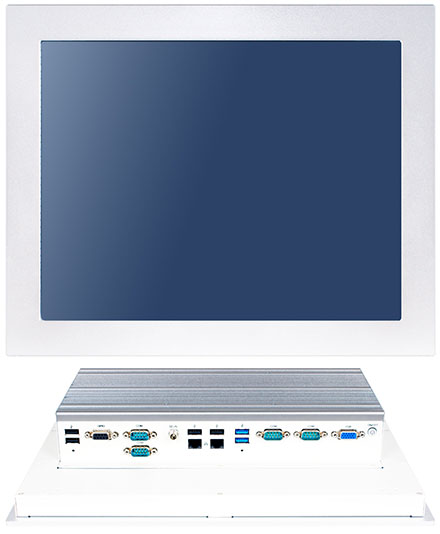 15.0" 350 nits high brightness TFT LCD with LED backlight
5 Wire Resistive Touch/Anti-Reflection Protection Glass
Cable less, Streamlined enclosure for highly efficient heat dissipation Enclosed in robust aluminum casing
Strong solid aluminum frame design and Fanless cooling system
Support Open frameless design
Design for easy Wall mount, Panel Mount, VESA Mount installation
A true Flat, easy-to-clean front surface with edge-to-edge design
Lockable USB device bracket supported
Front bezel meets IP65-rated protection
9-28V DC-input Support, with EOS, OVP design
Jetway HPC150GR-HD1900B h [more]



1039.00

EUR


incl. 19% VAT, plus shipping


Available in 3 weeks
15.0" 350 nits high brightness TFT LCD with LED backlight
5 Wire Resistive Touch/Anti-Reflection Protection Glass
Cable less, Streamlined enclosure for highly efficient heat dissipation Enclosed in robust aluminum casing
Strong solid aluminum frame design and Fanless cooling system
Support Open frameless design
Design for easy Wall mount, Panel Mount, VESA Mount installation
A true Flat, easy-to-clean front surface with edge-to-edge design
Lockable USB device bracket supported
Front bezel meets IP65-rated protection
9-28V DC-input Support, with EOS, OVP design
Jetway HPC150GR-HD1900B heavy-duty Fanless Panel PC offers complete robust solution for harsh industrial environments, such as cloud computing, IoT solution, transportation, heavy-vehicles, intelligent building, oil pipe monitoring systems, environmental monitoring, steel refineries, machine control and factory automation.
Jetway HPC150GR-HD1900B heavy-duty Fanless Panel PC is designed with 5-wires resistive touch screen for 4:3 size panel. High brightness TFT LCD panel with LED backlight are equipped with all models. Cable-free design is easy for the HDD and memory installation. Streamlined enclosure with strong solid aluminum frame design, it provides good heat dissipation and achieve fanless cooling system.
Jetway HPC150GR-HD1900B heavy-duty Panel PC is also designed for open frame application. Heavy-duty Panel PC is designed mounting clips for easy Wall mount, Panel Mount, VESA Mount installation.
It is a true flat with easy clean design, front bezel meets IP65-rated & NEMA 4 protection. Welcome to use Jetway heavy-duty Panel PC.
 Display
Front Bezel
– IP65, NEMA 4 rugged protection, metal front bezel
Display Type
– 15.0″ With LED Backlight
Brightness (cd/m²)
– 350 nits
Display Color
– 262K
Resolution
– 1024 x 768 @ 60Hz
Viewing Angle (H/V)
– 170°/160°
Pixel Pitch
– 0.297 x 0.297 mm
Aspect Ratio
– 4:3
Contrast Ratio
– 700:1
Response Time
– 5.7 ms
 Touch Screen
Type
– 5 wires analog resistive type
Active Range
– 304.10 x 228.10mm ±0.2mm
Operating Force
– ≦ 80g
Transparency
– 80 ±3%
Surface Hardness
– ≧3H (ASTM D3363, pressure 750g/45°)
Knock test
– 10,000,000 times keystrokes
 CASE
Panel Material
– Aluminum
Case Material
– Iron
Color
– Silver + white
Coating Requirement
– Spray Paint
 Main System
CPU
– Intel® Bay Trail-D J1900 2.0GHz/QC
RAM
– 4G 1333MHz DDR3L SAMSUNG DRAM
BIOS
– 64MB SPI Flash ROM
Storage
– 1* 2.5" SATA bay
– 1* M.2 connector (2242/2260/2280)
Watchdog Timer
– 256 levels, 0~255 sec.
OS Support
– Windows 7 / 8.1 / 10 / Linux (Option)
 I/O Connector
I/O Ports and Switches
– 2* USB3.0
– 4* USB2.0
– 2* RS232/422/485
– 2* RS232
– 1* CRT
– 1* 8bit GPIO
– 2* LAN (Intel® I211AT Gigabit LAN)
– 1* Locking Jack 9~28V DC input
– 1* Power button
 Expansion Interface
Expansion
– 1 * PCI-E mini card for WIFI or 3G/4G
– 1 * SIM card holder for 3G/4G
 Power
Power Input
– Supports 9-28V DC Power in with over current protection fuse – Provides 100~240V AC-DC 12V, 60W power adapter
Power Consumption
– 35W
 Power
Case Dimensions
– 366.0*290.0*74.0mm
 Certifications
Certifications
– CE, FCC, IP65(Front)
 Environment
Temperature
– Operating Temperature: 0 ~ 60° C (with W.T. DRAM/HDD in airflow condition)
– Operating Temperature: 0 ~ 60° C(with W.T. DRAM/HDD)
– Storage Temperature: -20 ~ 85° C
Shock
– Operating: 15G,11ms duration
Vibration
– Operating: 5~500Hz/1 Grms
 Warranty
Warranty
– 2 Years Limited Warranty(Panel and Touch is only Warranty 1 Year)
Please
login
for creating product ratings.
Your rating:

Please tell us your opinion. Rate the product on a scale from 1 to 5. A value of 5 means the best possible rating. If you want you also can leave a comment.

Your ratings are honored on many ways. Your report will help other customers to better judge about the products. And you can benefit from reports other customers are giving.

In addition we credit 0.50 EUR for each given rating with comment and 1.00 EUR for each given rating with comment (more than 150 characters) on your account. The credit will be substracted automatically on your next order !

We reserve us the right to delete given comments (for example on attempts to give comments with senseless content, copying of other comments, inserting of foreign content, abusing the system for financing orders). "Fair-use-policy" does apply (as of rule of thumb you should give comments for products which you have purchased already. And your credit account only in rare cases will have 2 or even 3 digits). The credit can only be withdrawn by placing an order. It is not possible to get the credit cash or transferred in an other way.

39.95 EUR
incl. 19% VAT, plus shipping In Stock

24.95 EUR
incl. 19% VAT, plus shipping In Stock
Description
Specifications
Data sheets and downloads
Customer ratings
Assembling options