News archive
28.03.2017 NEW PRODUCT : Mitac Thin-ITX Apollo Lake N3350 Mainboard PD10AI (Intel DN2800MT4)
This board is produced by MITAC, the OEM producer of Intel DN2800MT. This board is based on Intel DN2800MT, but is equipped with the moderm Intel Apollo Lake plattform. PD10RI is available until at least Q1/2022.


Intel Apollo Lake N4200/N3350 quad/dual cores processor
Intel HD graphics and DriectX 12 support
Dual channel DDR3L with two connectors for MAX. 8GB memory
Triple independent display from HD-Out, DP-out, and eDP / LVDS connectivity
Features high speed Gigabit Ethernet connection
Features 2 SATA 6Gb/s
Four Hi-Speed USB3.0 ports support
Two RS232 support, optional for four extra COM ports
One PCIe connector for the future Add-in card
Two M.2 slot for storage and wireless expansion
8 V to 24 V wide-range voltage input via back-panel DC jack or internal power connector
Mitac PD10AI-N3350 (Intel DN2800MT4) Half-Height (Intel Apollo Lake N3350 2x2.4Ghz CPU, 8-24VDC) [FANLESS]
Mitac PD10AI-N4200 (Intel DN2800MT4) Half-Height (Intel Apollo Lake N4200 4x2.5Ghz CPU, 8-24VDC) [FANLESS]
09.03.2017 NEW PRODUCT : Mitac Pluto E230 barebone on Intel Apollo Lake basis with 2x LAN
MiTAC Pluto E230 is built the latest generation of Intel Apollo Lake. The whole new SOC structrue packs more powerful capability for your tasks or applications.

The E230 has a 2.2 liter fan-less chassis design and gives it the flexibility to adapt to every workspace and environment, whether implemented as an Embedded Box PC. VESA mount support allows for space-saving and rear-mounting on flat-screen displays. Flexibilities also mean a rich array of I/O ports (including 2 x PS/2, 4 x USB 3.0, 2 x Ethernet Rj45, 1 x VGA, 1 x HDMI out, 2 x Serial port, 1 x DC Jack, 1 x Kensington lock) to add a variety of peripherals. Storage expandability is supported for high-density hard drives. Two M.2 slots provide the support of SSD and wireless interfaces which allow effortless connection to Wi-Fi and Bluetooth networks. D-Sub and HD-out extend your visual experience with support for dual diaplays.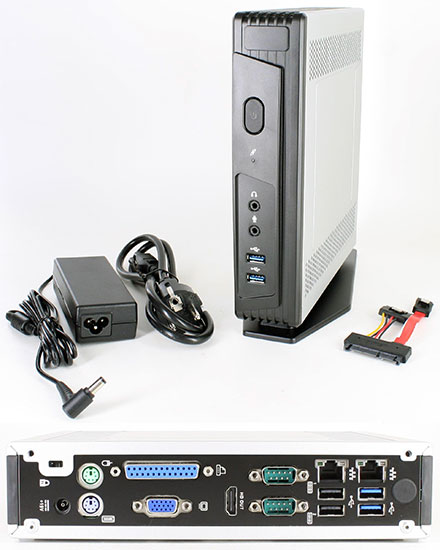 Mitac Pluto E230 (Intel Apollo Lake J3355 2x 2.5Ghz, 2x Gigabit LAN, VGA/HDMI, 2x RS232) [FANLESS]
Mitac Pluto E230 (Intel Apollo Lake J3455 4x 2.3Ghz, 2x Gigabit LAN, VGA/HDMI, 2x RS232) [FANLESS]